He was a lanky, disheveled prospector when he reached Fort Huachuca in southern Arizona in 1875.  He was born in Pennsylvania in 1847, but by the time he was 29 years old, he had prospected in Oregon, Idaho, Nevada, Utah, and California but had always come out empty.  He was a quiet man, a recluse of sorts who took on occasional manual labor just to feed himself.  He had piercing blue eyes and long, black hair that hung down to his shoulders.  He was known for his red flannel shirt and the fact that he tucked his pants legs into his knee-high boots.  Often his working clothes were patched with deerskin, corduroy or flannel.  He slouching hat was pieced together with rabbit skin.  He normally carried a rifle whenever he went out – both for protection and to supply meat for the table.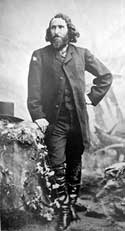 In November, 1875, he returned to his parent's home, who had since migrated to Oregon. He had $2.50 in his pocket when he arrived. He borrowed $100 from his father, then Ed and his brother Albert headed out to Arizona.
When they crossed the Colorado River, they split up; Albert going to the southern part of the Territory and Ed going north. He arrived at the Grand Canyon, and join a bunch of Hualapais natives who were going to southern Arizona to scout for the U.S. army against the Apaches. He arrived at Fort Huachuca on April 1, 1877. He didn't do much scouting, instead Ed Schieffelin headed for the hills, still bitten by the prospecting bug. He prospected during the day and returned to the Fort at night – fearing the marauding Indians who also prowled the hillsides.
The soldiers of the Fort always asked him what he had found each evening when he returned. When he responded that he had found nothing, they said that all he would find among the rocks and cliffs of these hills was he own tombstone.
Still, he continued his quest until he finally found some rock that assayed rich in silver and other trace minerals. He made the claims and called his finds the "Tombstone" and the "Graveyard".
Ed traveled to Mohave County to find Albert who was working at the McCracken Mine. The two of them met Richard Gird, a well-known mining engineer. Gird did an intensive assay of Ed ore and found it extremely rich. Word of his discovery quickly spread among the miners and prospectors of the region. Within a few months, the area was overrun with bonanza seekers and a tent city grew up in the area known locally as Goose Flats. The growing community would become Tombstone, Arizona.
Both Ed and Albert made a fortune, not only through their mines but also from their investments in businesses in Tombstone. Albert operated one of the most successful hotels and saloons in town.
Ed Scheffelin died on May 14, 1896 at his cabin in Oregon. He wrote, "I'm getting restless here in Oregon … I like the excitement of being right up against the earth, trying to coax her gold away and scatter it." His will reflected his love for Tombstone: "It is my wish, if convenient, to be buried in the dress of a prospector, my old pick and canteen with me, on top of the granite hills about three miles westerly from the City of Tombstone, Arizona, and that a monument such as prospectors build when locating a mining claim be built over my grave and no other slab or monument be erected.
In the hills above Tombstone is just such a monument. (Source: Jane Eppinga, Tombstone, p.19)